Tuesday September 16, 2014
Leaving Giessen, Germany
Approx 15:00 Local Time
Having spent nearly 4 months without drinking, my mind is in a bit of a haze at the moment. I realized this morning that I've already begun to forget what happened during the first few shows, and as such I should probably start expending at least a minimal effort to commit what's happening to paper. More and more I feel the urge to simply experience what is happening rather than spend my time documenting it. Of course, I had forgotten about the nearly countless hours we would have to spend in the van sitting and waiting for the next stop. So with that in mind, here we go:
Randy, Stevo and myself spent the better part of last Thursday and Friday travelling from Winnipeg to Paris. The 8 hour layover in the Toronto airport was made more tolerable by the large amount of beer we consumed. This is essentially a tour staple; need to kill a few hours? Beer is always willing and ready to help. All said and done we arrived in Paris at roughly 9AM local time, roughly 22 hours after our initial departure. Our guitars and bags arrive in one piece and for once it turns out our cell phones get reception out here. We use some expensive airtime to call Rufi and Lukas who are en route to pick us up. Stevo and I haven't seen Rufi since the last Rentokill tour 4 years ago, and we are all too excited to hang out with our foreign brothers again.
The boys pick us up, we hit the road and it's like no time has passed at all. The crude jokes and sour smells that come with every tour make their appearance almost immediately. When you only have 2 weeks on the road, it helps to get into the right mentality right away.
A few hours later we arrive at Greg's place in Lille to pick up our merchandise (left over from the last tour), the rental equipment and to make use of his jam room for an hour or two. Rufi agreed to fill in on drums for us on this tour – the only catch being that he hasn't played drums in six years, and we have the first show of the tour booked later that night. Being the professionals we are, we enjoy a few more beers and a pizza while briefly catching up with Greg. We check the gear in the jam room, run the set once to make sure all the pieces are there (Rufi nails it as expected) and we hit the road towards Oostende, Belgium.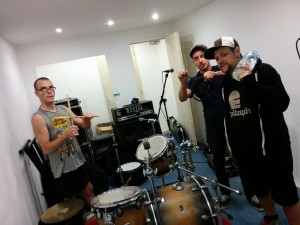 First and only rehearsal at Greg's jam spot
OHK Jeugdhuis is a graffiti covered youth community centre not unlike several others we expect to encounter on this trip. The staff are very hospitable and show us to the concert room, where they've created a bit of a "living room" space. They've marketed the show as a "ladies night" event, so the atmosphere is meant to make the environment a bit more welcoming. Luckily no other bands are set to play that night, so we have the luxury of setting up and getting going at our own pace. The set is not nearly as rough as I would have expected considering our lack of sleep, and afterwards we get to see Rufi play his set as Migre Le Tigre. Stevo and I have both heard the tunes but haven't had a chance to see him live yet, and it's exactly as I would have expected. The positive vibes and strength of his songwriting shine through and the promoters are singing every word at the top of their lungs. A hot meal consisting of vegan chilli is served after we play, a welcome change from the airline food and gas station snacks we've been subsisting on. Later on Stevo runs out of the venue and comes to find me : "Dude, you know the jam room we're playing in that's covered in gay porn? These are the guys that did it!!". The belgian guys from Hero Build are behind him and are more than happy to boast about how they re-wallpapered Money Left to Burn's jamspace with only the hardest core of gay pornography.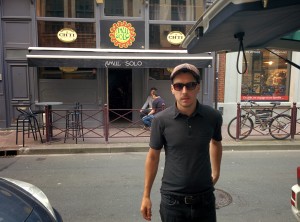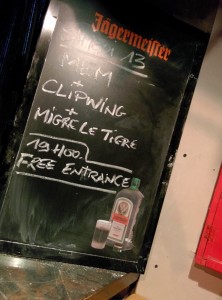 There is some debate about where we will stay after the show, one of the options being an apartment where we would likely have to crash on the floor. Aurélien from Icons Down! was very adamant that he wanted to put us up the next evening, but he also mentioned that if we needed a place on Friday we were welcome. It's another 80KM drive after the show, but we all need some proper rest so we make the trip and meet him outside at around 2:30AM.
The gamble pays off in droves – Auréliens place is uncharacteristically large for a house in France. Hot showers, beds for all of us and Wifi – all we could have ever asked for. On top of the conditions we haven't seen Aurélien since the last tour, and we spend a few hours catching up over some Belgian beers before finally turning in.
It's past 2PM by the time we finally wake and start to get moving. Luckily the show is in Lille, a mere 20 minutes away. Since we had nothing booked for the first weekend, Greg was able to pull together a last minute door deal show at a bar we originally hung out at on our last tour. The place is small, but the turnout is great. We're still feeling out the songs and each other's style on stage but the shots of Sailor Jerry from the bartender help loosen us up a little bit. Jérôme from Icons Down! shows up as well and we get to have a little reunion after the show. We're treated to another stay at Aurélien's place which is a huge bonus. Any night we can avoid having to pack up our entire lives into the van before leaving for a show is a luxury. More Belgian beer is consumed and I end up crashing around 4AM. Before going to bed I found myself thinking I should call my mom. A reality check snaps me out of that and I decide it's time for bed.
The next morning is rough, and we end up leaving a little late. Our road today takes us to Bielefeld, Germany – the hometown of our label Coffee Breath and Heartache. The show is another last minute favour to fill the first weekend of the tour. Traffic and bad judgement on my behalf lands us there about 30 minutes after the start of the show. To our surprise, there is a huge crowd outside the venue. Our label contact Basti has obviously done a great job of promoting and the place is packed. The room is small, but we'd rather play to a full room than an empty arena. Migre Le Tigre isn't on the bill due to another oversight on my behalf, but as Rufi is feeling a bit haggard from the night before he's happy to take a bit of a rest. Our fatigue definitely shows through during the show and most things that could go wrong do exactly that. I break a string due to not following my own rules (fresh strings every 2 shows), but we all manage to keep it together.
Afterwards our sleeping arrangements aren't looking promising (we would have to be out at 8AM), so we start to evaluate what the conditions will be like for the remainder of the tour. It looks like this may be the last night we don't have something worked out, so we opt to stay in a hostel for the night. A 150 Euro touch for the 5 of us, but it's a small price to pay for beds and showers in the room. We take our lazy time in the morning and eventually get packed up and hit the road.
Finding the venue in Giessen was a bit of a challenge, but nothing we haven't encountered before. The huge old building apparently once served as a bunker – first for the Nazis and then the allies after WWII. The organizers are super cool and the show goes off without a hitch. We start to realize how blessed we are to have Lukas with us for more than one reason. In this case his ability to work magic on the sound board set us up for what I'll say has been our best set to date. Not very many people show up, but we make a party of it anyway. A member of the opening band mentions to me that we played "like there were 100 thousand people here", not a bad feeling at all.
One of the venue organizers is kind enough to take us down into the first of four basements. The other three are apparently under water and the first is only used for "electro porn parties". The place is fucking creepy but ultimately it's really interesting to be able to see this kind of thing. We use the creepy ass backdrop as a photo op and continue to drink upstairs before piling into a cab and crashing out at the promoters place.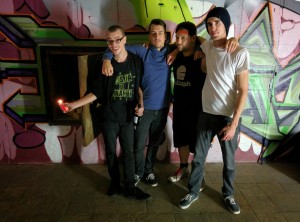 If only we were a hardcore band, this could be an album cover.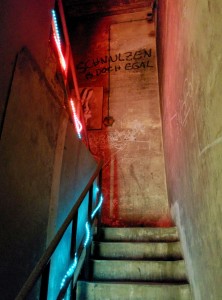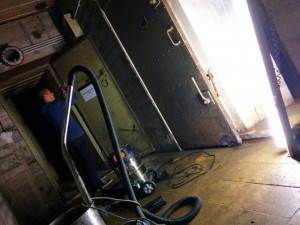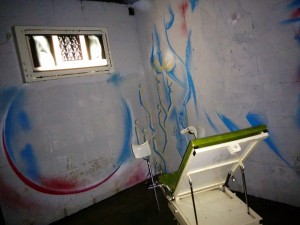 I can only assume this is part of the electro porn decor…
Seems like a lot has happened so far but there's still so much to come. Stay tuned.